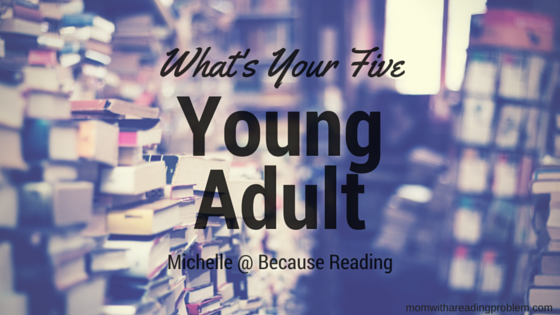 A few years ago I was asked by a friend of mine "What five books (excluding the Bible) do you think everyone should read?" I decided to give the question a spin and a few of my blogging buddies are giving me their five reads in their favorite genres. Up today is Michelle from Because Reading is better than real life and her favorite genre Young Adult.
---
So excited to be giving you my 5 favorite YA books, first let me thank Lillian for having me on her blog today. You realize I have a lot more than just 5 and it was hard to narrow it down but I figured I would stick with books I read that are, as of now, stand-alone books. These are some of my all time favorites and I loved each one.
Alice Takes Back Wonderland by David D. Hammons: This book was just over the top amazing and such a different retelling of a fairytale. I enjoyed everything about this book and loved how Hammons twisted each fairytale. It was not was I was expecting and I must say it is a world I would love to explore again if he was to write another one.
Death of the Mad Hatter by Sarah J Pepper: This is another version of Wonderland but a little darker. I actually very expected the end in this one and gives me chills to think about it. I would 100% read this book again. I enjoyed all the characters  in this and Alice Mae was probably my favorite of them all. She was just so wonderfully quirky.
Revenge and the Wild by Michelle Modesto: It has EVERYTHING in it, I mean EVERYTHING, from Vampires, Trolls, Steampunk, Western, Werewolfs, it's like the kitchen sink of books. If this is Michelle Modestos first book I have a new author I need to follow because this was fantastic. I loved the heck out of this book.
Stalking Jack the Ripper by Kerri Maniscalco: I might be cheating with this one since I got it at BEA and it's not out yet. I can't even express how excited I was to read this book and how much I loved it. I have a thing for Jack the Ripper and just find his story be fascinating. This book was amazing and I can't wait for it to come out for you all to be able to read it too.
This is Where it Ends by Marieke Nijkamp: I don't even know where to start with this book. I cried for DAYS! It has a lot of mixed reviews but this broke my heart. It was one of the best books I read to end the year last year and I devoured it in 2 days. I thought some of the events of the book seemed almost unbelievable but in a whole with how the world has been this book gave/gives me chills. If you read one book this year, make sure it's this one.
Thank you again Lillian for having me on your blog. I enjoyed talking about some of my favorite books and I hope you all enjoyed this post. If you read any of the books, lets chat about it, spoiler free of course or if you haven't I highly recommend you wont be disappointed.
Have an amazing day and Happy Reading! ox
Meet Michelle
I am a mom to two pretty amazing kids, two pretty cute fluffy children and a wife to one adorable husband. I am a gamer, reader and a graphic designer with 20 years experience. I recently started my own business "Limabean Designs" to help other bloggers, authors and anyone else create amazing things that they would be proud to show off. I have been reading since forever and started blogging because I love sharing all the awesome books this world has to offer. I am also the co-host for the COYER Challenge, Reading Assignment Challenge and the Bookish Resolutions Challenge. I try to create a warm welcoming environment on my blog where authors, readers, and bloggers will have a great time. Let's chat books, games, blogging, recipes, design, or family over a cup of coffee and a glass of wine!
Blog | Facebook | Twitter | Goodreads | Instagram | Pinterest
---
Thank you Michelle! I have a weakness for Wonderland retellings. I'll have to check those out! What's your favorite Young Adult reads? Share below
Related Posts